Images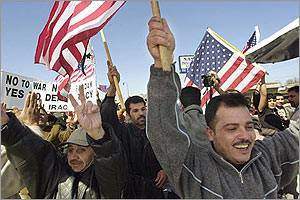 Wednesday Jubilant Iraqi men march down a street in Dearborn, Mich., after hearing about U.S. troops in the center of Baghdad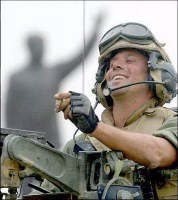 Marines Staff Sgt. Nick Popadich of Indianapolis, Ind., stood atop his tank in Baghdad.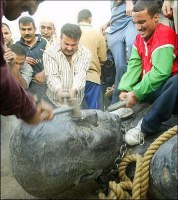 Iraqis destroyed a statue of Saddam Hussein in Baghdad after it was pulled down by the U.S. military.j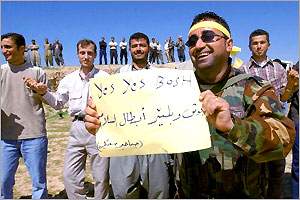 A Kurdish fighter holds a placard reading 'Bush and Blair, the champions of peace' on Thursday April 10, 2003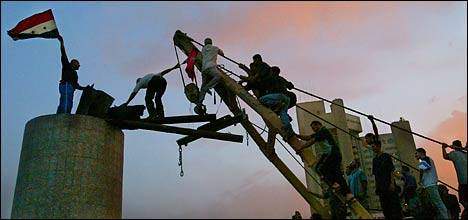 Iraqi waving his nation's flag on a pedestal where a statue of Saddam Hussein stood in Central Baghdad until it was toppled today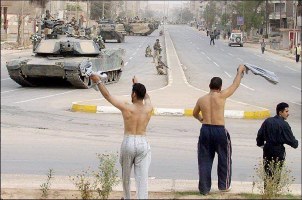 Iraqis celebrated as U.S. tanks rolled down Karada street in Baghdad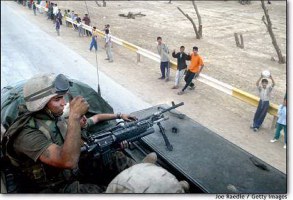 Greetings along the way
Iraqis wave to U.S. Marines on armored attack vehicles from Task Force Tarawa on Tuesday as they move through central Iraq.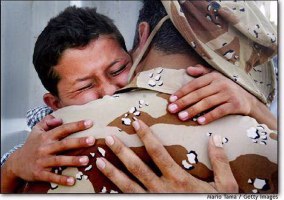 Family united
Free Iraqi Forces soldier Ali, whose full name was withheld for security reasons, hugs a nephew he had never seen before as he is reunited with family members Saturday in Umm Qasr, Iraq. Ali, 40, a former officer in the Iraqi army, escaped from Iraq in 1991 after being involved in the Basra uprising and had been working as a taxi driver in St. Louis, Mo. He is serving in the Free Iraqi Forces, which are made up mostly of Iraqi exiles opposed to Saddam Hussein. They have been trained by coalition forces to help deliver humanitarian assistance in the country.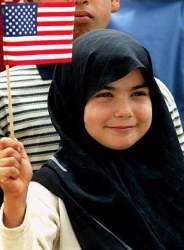 No explanation needed!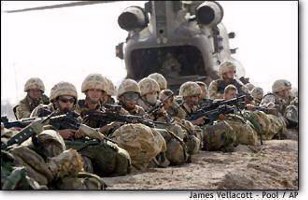 British Marines of 40 Commando take position as they are inserted into Basra, southern Iraq, by a Chinook helicopter on Sunday
http://www.raf.mod.uk/index.html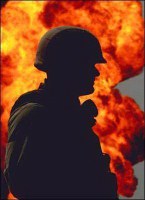 A U.S. Army soldier stands guard by a burning oil well in Iraq's vast Rumaila oil fields.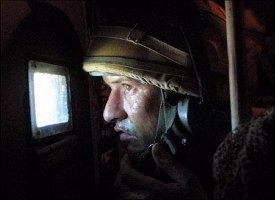 A British soldier from the Royal Scots Dragoon Guards, also known as the Desert Rats, peers from an armored vehicle during the entry into Basra, in southern Iraq (Tuesday, April 1, 2003).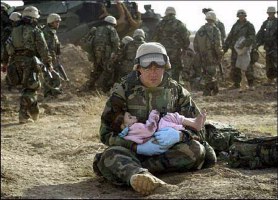 A U.S. Marine doctor holds an Iraqi girl in central Iraq.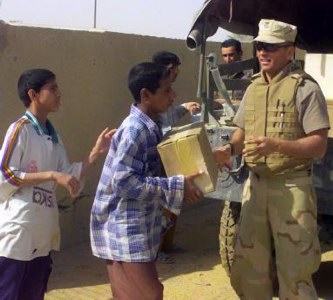 Task Force Tarawa Marines offloading food supplies for use by the Iraqi citizens while in support of Operation Iraqi Freedom on March 29, 2003.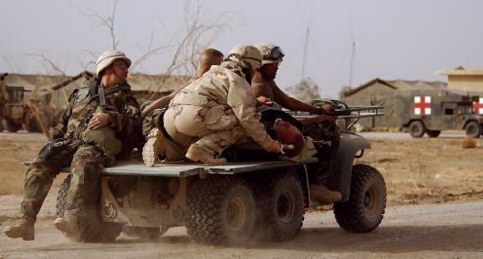 Members of the 86th Combat Support Hospital transport a patient to a hospital at an undisclosed location, March 30, 2003, in support of Operation Iraqi Freedom.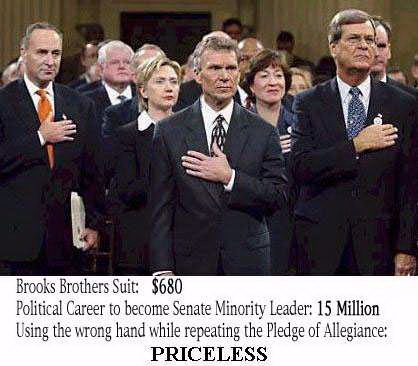 The Hypocrisy of Tom Daschle
"I'm saddened that this president failed so miserably at diplomacy that we're now forced to war. Saddened that we have to give up one life because this president couldn't create the kind of diplomatic effort that was so critical for our country." -Tom Daschle (Dem) Mar. 2003
We have exhausted virtually our diplomatic effort to get the Iraqis to comply with their own agreements and with international law. Given that... We have got to force them to comply, and we are doing so militarily." -Tom Daschle (Dem)1998, when President Clinton bombed Iraq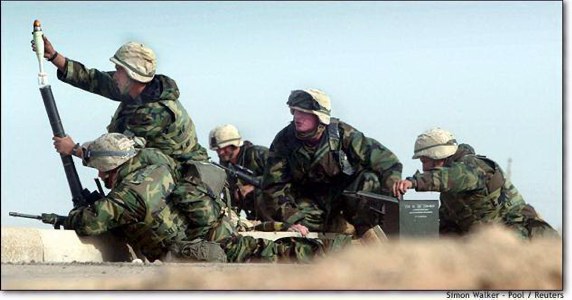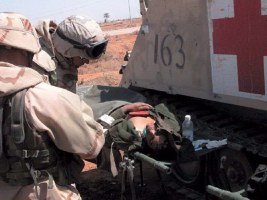 A wounded Republican Guard soldier receives treatment from a 1st BCT medic for gunshot wounds to his chest and arms endured during fighting that took place March 26, near Najaf, Iraq.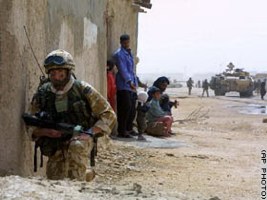 A member of Britain's famed 'Desert Rats' patrols a village near Basra today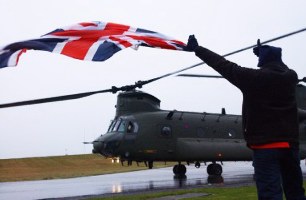 Chinooks depart RAF Odiham on 1/19/03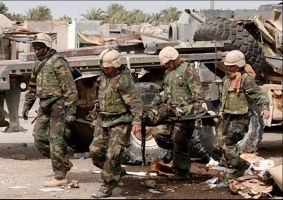 Marines from the Second Battalion Eighth Regiment carry the body of one of two Army soldiers killed after allegedly having been ambushed by Iraqi forces in Nasiriyah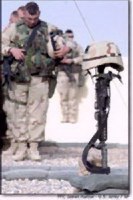 Soldiers of the U.S. 1st Brigade, 101st Airborne Division, pay last respects Monday during a memorial service for Capt. Christopher Seifert at Camp Pennsylvania in Kuwait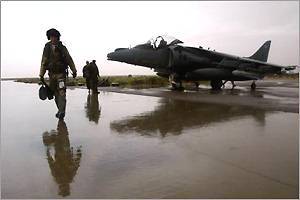 A British RAF Harrier GR7 pilot walks away from his plane after a mission over Iraq on Tuesday, March 25, 2003.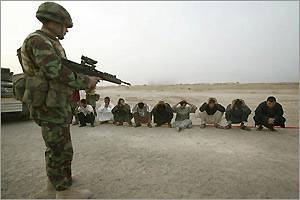 A British soldier stops and searches Iraqis on 3/24/03, at a checkpoint on the road to Basra.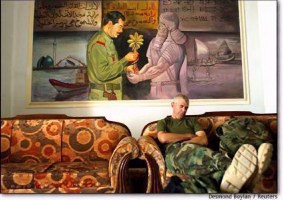 A U.S. Marine from the Marine Expeditionary Unit sleeps under a painting of Iraqi President Saddam Hussein in the VIP lounge of the port of Umm Qasr in southern Iraq on Monday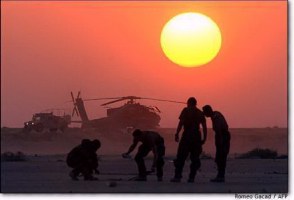 Army crewmen of the medical evacuation air ambulance for the 3rd infantry Division mark landing ground for their Blackhawk helicopter at an airfield in southern Iraq Monday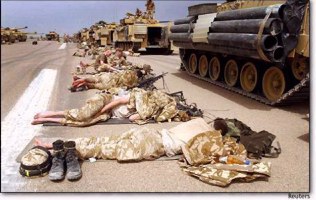 Capturing 30 winks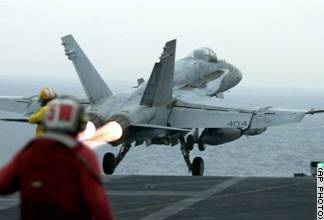 Flight deck crew members watch as an F-A-18C Hornet is launched from the deck of the aircraft carrier USS Kitty Hawk in the Persian Gulf.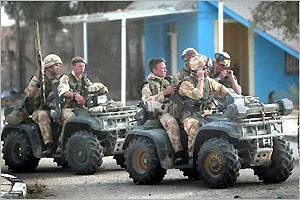 March 24-2003 42 Company British Royal Marines patrol the streets of Umm Qsar-southern Iraq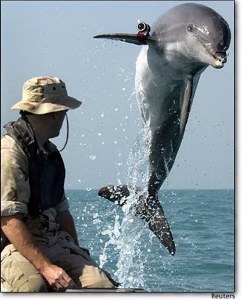 K-Dog, a bottle-nose dolphin belonging to Commander Task Unit trains with Sgt. Andrew Garrett in the Arabian Gulf. These units are working to ensure shipping lanes are clear of mines for humanitarian relief.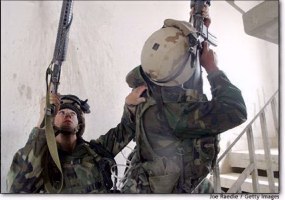 Marines attack the military garrison of the Iraqi 23 Infantry brigade after it was pounded with rockets.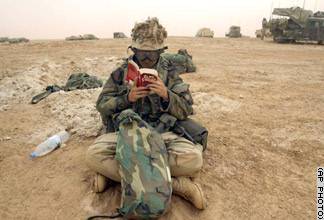 Pfc. Dustin Blanchard of Pekin, Illinois, takes a break with a book on Tuesday. He's with the U.S. 3rd Brigade of the 101st Airborne Division in southern Iraq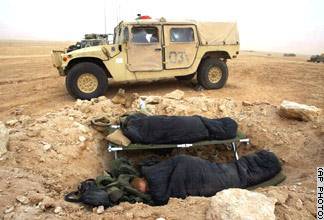 Pfc. Kevin Gropp of Littleton, Colorado, with the U.S. 3rd Brigade of the 101st Airborne Division, sleeps in a foxhole by his Humvee in southern Iraq on Tuesday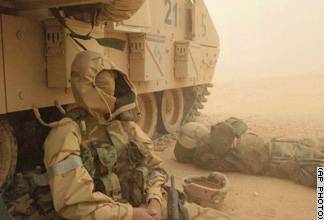 Soldiers with the U.S. A Company 3rd Battalion 7th Infantry Regiment cover up during an intense sandstorm near Karbala, Iraq, on Tuesday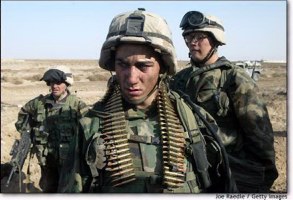 U.S. Marines from Task Force Tarawa are tired but alert after a day of intense fighting Sunday in the southern Iraqi city of Nasiriyah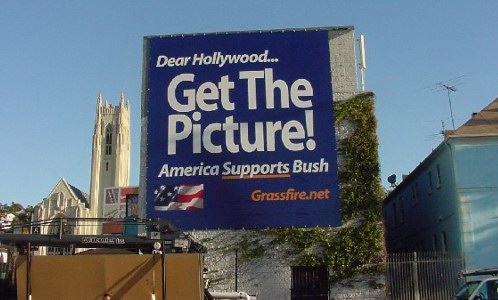 Side of a U.S. Naval vessel in the Gulf