Collin Powell Quote
When in England at a fairly large conference,Colin Powell was asked by the Archbishop of Canterburyif our plans for Iraq were just an example of empire building by George Bush.
He answered by saying that, "Over the years, the United States has sent many of its fine young men and women into great peril to fight for freedom beyond our borders. The only amount of land we have ever asked for in return is enough to bury those
that did not return."
It became very quiet in the room.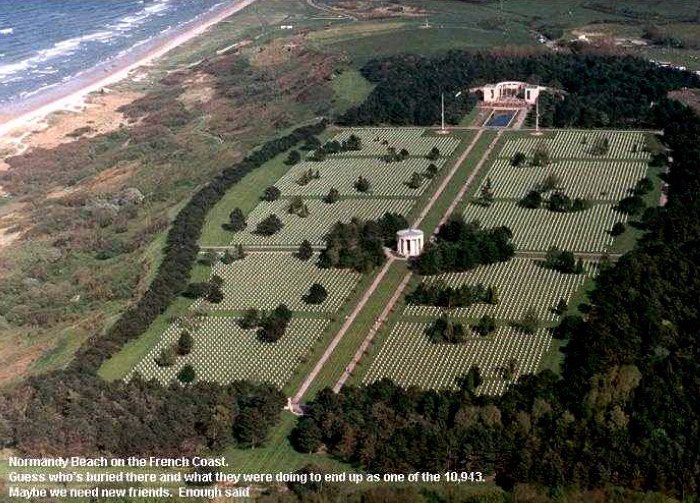 In Memorial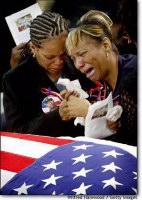 Stateside grief
Patricia M. Roberts-Webb, right, the mother of slain U.S. Army Spc. Jamaal Rashard Addison, weeps during his funeral service at the Whites Chapel United Methodist Church in Conyers, Ga., on Monday. Addison was killed March 23 in Iraq.

William Buesing III, father of U.S. Marine Lance Cpl. Brian Buesing, 20, holds an American flag given to him by a member of a Marine color guard as he grieves over his son's coffin during funeral services Saturday in Cedar Key, Fla. Buesing was one of nine Marines who died in a confrontation with Iraqi troops near Nasiriyah, Iraq, on March 23.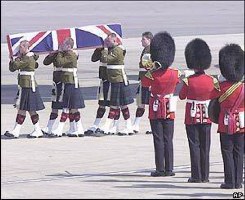 A military band played sombre tunes including Bach's Jesu Joy Of Man's Desiring.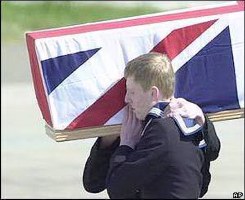 Family and friends of the servicemen gathered at the base for the repatriation ceremony.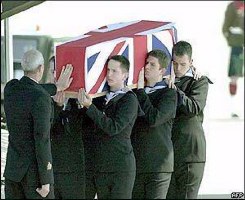 Five of the dead were killed in a mid-air collision between Sea King helicopters in the Gulf.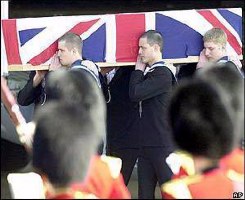 The servicemen's bodies will be released for burial within a week to 10 days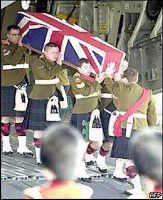 The bodies of 11 British servicemen who died in Iraq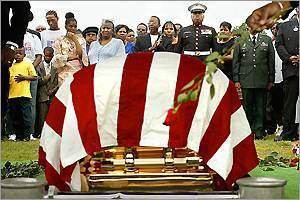 Burial services for Pfc. Howard Johnson II, a member of the Army's 507th Maintenance Company, at the Gethsemane Cemetery in Mobile, Ala.


Pfcs. Lori Piestewa (right) and Jessica Lynch at Fort Bill, Texas, the day before they shipped out to the Mideast in February. Both were ambushed in Iraq. Lynch was rescued, Piestewa did not survive..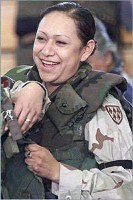 Feb. 18 Pfc. Lori Piestewa laughs with a fellow soldier before being deployed from Fort Bliss. Pfc. Lori Ann Piestewa, 23,mother of two, of Tuba City, Ariz. 507th Maintenance Company, Fort Bliss, Texas killed in action in a convoy that was ambushed March 23 in Iraq. May God bless and keep Lori Ann and her family.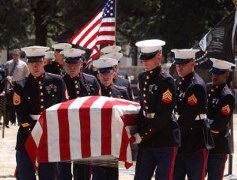 Members of a Marine Honor Guard carry the casket of Marine Cpl. Randal Rosacker to its final resting place during burial services at the Colorado State Veterans Center near Alamosa, Colo., on Friday, April 4, 2003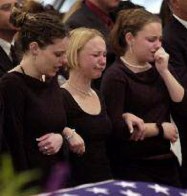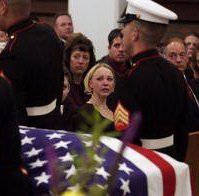 Brooke Rosacker, widow of Cpl. Randal Kent Rosacker

An unidentified woman comforts Joan Cavalier, right, as she weeps on the coffin of her grandson, Marine Cpl. Randal Rosacker, at his burial service near Alamosa, Colo., Friday, April 4, 2003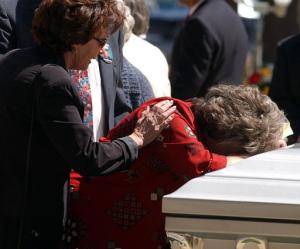 U.S. Marine pallbearers carry the casket of Marine Staff Sgt. Kendall Damon Waters-Bey from St. Matthews Catholic Church in Baltimore Friday, April 4, 2003.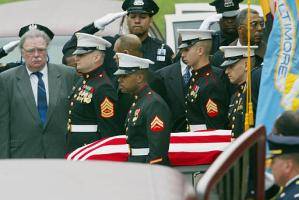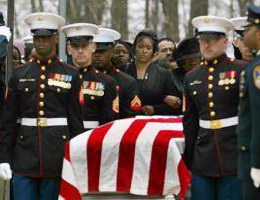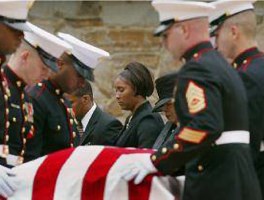 Belinda Waters-Bey, center rear, widow of Marine Staff Sgt. Kendall Damon Waters-Bey, follows Marine pallbearers at the Maryland National Veteran's Cemetery in Owings Mills, Md. Friday, April 4, 2003.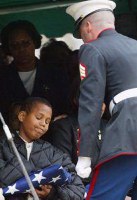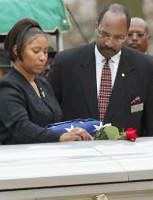 Kenneth Damon Waters-Bey, 10, son of Marine Staff Sgt. Kendall Damon Waters-Bey receives a flag from a member of the U.S. Marine honor guard at the Maryland National Veterans Cemetery in Owings Mills, Md. Friday, April 4, 2003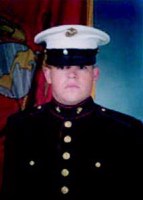 An undated photo of US, Marine Pfc Chad Bales Metcalf of Coahoma , Texas, who, according to family members Friday, April 4, 2003, was killed in the fighting in Iraq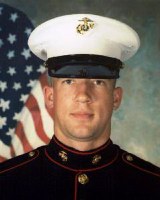 US Marine Lance Cpl. Eric Orlowski, 26, seen here in this undated famly photo, Orlowski was killed March 22, 2003 in an accidental discharge of a .50-caliber machine-gun in Iraq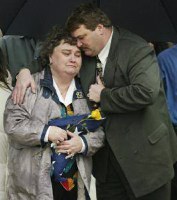 Gail Tobler, left, mother of Army Spec. Brandon Tobler, and Scott Tom, uncle of the soldier, embrace following graveside services Thursday, April 3, 2003 in Portland, Ore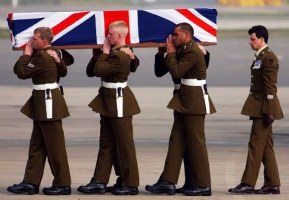 Ten British fatalities were repatriated to RAF Brize Norton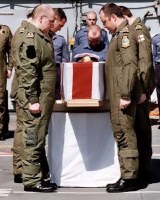 Ark Royal pays a final farewell to a Fleet Air Arm casualty, flown home on 28-29 March